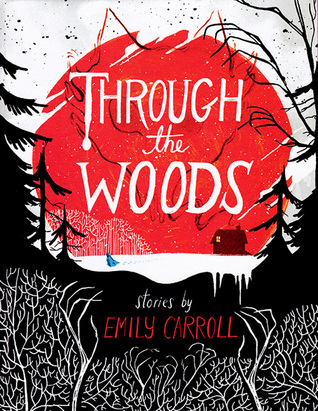 Through the Woods by Emily Carroll
Published: July 2014
Genres: Graphic Novel; Short Stories; Horror; Fairy Tales (kind of)
My Rating: ★ ★ ★ ★ ☆ (4.5 stars)
Goodreads
This is a collection of five creepy stories, reminiscent of fairy tales. The artwork in this graphic novel is so awesome, and that was one of the things that first caught my eye. I mean, look at this cover! And the picture doesn't do it justice. I have the hardcover and the dust jacket is so pretty and kind of sparkly, like the land and trees are covered in frost. Under the dust jacket, we have the same image on the actual cover of the book, minus the sparkle. It is a beautiful book.
Now, the stories! I mentioned a few days ago that I was reminded of Alvin Schwartz's Scary Stories to Tell in the Dark when I started this graphic novel, and I stand by that comparison. They aren't completely similar, but I think if you liked Scary Stories, you will also like Through the Woods.
My favorite story was probably "My Friend Janna," but possibly "The Nesting Place." The introduction and the conclusion were also nice and creepy, and I enjoyed those as well. I thought the first three stories were good (3-3.5/5 stars each), but the last two seemed stronger and just a little freakier. Then again, the first story, "Our Neighbor's House," was a very nice opening tale.
To make things short: If you like graphic novels–or want to get into them–and you like slightly creepy, fairy tale-like stories with a hint of horror, give this one a shot.