T5W is a weekly meme created by Lainey from gingerreadslainey, now hosted by Sam from ThoughtsOnTomes. You can check out the goodreads group to learn more.
June 13th: Favorite Fathers/Father Figures
— In honor of Father's Day (in America at least), discuss some of your favorite fictional dads.
I try to stick to books with T5W, but I had a really hard time thinking of fathers/father figures that were present and decent, so I dipped into TV and movies a bit. I made myself stop after two because I suddenly thought of quite a few and could probably do a top 5 for both tv shows and movies if I thought about it for more than a few minutes.
In no particular order…
---
Mr. Bennet from Pride & Prejudice by Jane Austen– I honestly don't remember many specifics about this book now, but I remember I liked Mr. Bennet a lot when I read it, and also in the 2005 movie.
Dill Penderghast from Easy A– I love this movie and I love just about everyone in it.
Mortimer "Mo" Folchart from Inkheart by Cornelia Funke– I haven't read this in almost 10 years, but I remember liking Mo and thinking he was a good dad? Someone correct me on that if I'm remembering it wrong. (I also loved Brendan Fraser in the movie.)
Hagrid from the Harry Potter series by J.K. Rowling– I feel like there were actually a few good ones in this series, but Hagrid…<3 I feel like Hagrid just loved Harry, unconditionally, as a father should. I'm not saying other characters didn't love Harry, or that Arthur wasn't a good dad. I just automatically think of Hagrid when I think of really good father-figures from this series.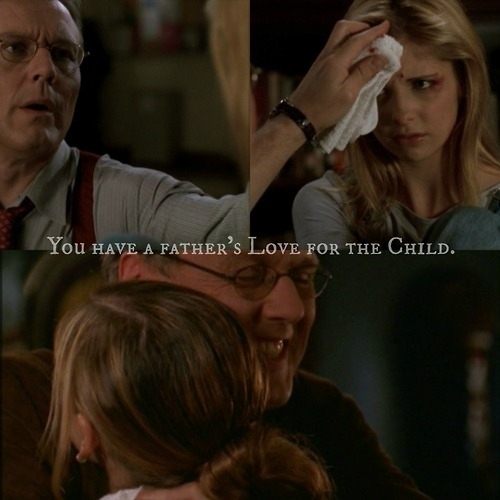 Rupert Giles from Buffy the Vampire Slayer– Ok… Giles wasn't perfect, for sure. But, he's honestly one of my fave "father figures" ever, I think. I mean, the Watchers Council even basically "fired" him from being Buffy's watcher because he loved her too much. I could go on and on about Giles, but I'll stop here. (I couldn't find just one good gif for this, so I recommend checking out this BuzzFeed thing, which is where the pic came from.)
---
Who are some of your favorite fathers/father figures? See any on my list? Let me know!