I participated last year and it was so much fun. Stressful at times, but still in an enjoyable way. I've been looking forward to this all year, honestly, and I'm so excited (and nervous, I won't lie) about it.
You know almost as much as I do about what kinds of things will be appearing on the blog this month, because I haven't planned much and have nothing scheduled. Yikes
But that's ok! I do have a few ideas, and I'm going to get started with the actual planning of things tonight.
One thing that I do already have planned are more frequent updates for the autumn challenges I'm participating in (R.I.P. XIII and FrightFall/Something Wicked This Fall Comes in particular). So, I'll probably be posting weekly wrap ups, at least. Hopefully I'll get in a few reviews, too.
I think that's it for now. I have to get back to some reading for a weekend read-a-thon, and then start planning more stuff for Blogtober.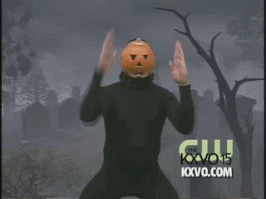 Happy Halloween Month Eve!