Yikes this is going up late
I really should have just posted my March TBR, then posted again when the Spring Bookish Bingo post was up on Pretty Deadly Reviews, but I was an idiot. Oh well.
I don't usually do TBRs, but since I got the reading planner in the December OwlCrate, I'm miraculously managing to (kind of) stick to them. It's very strange, but I'm enjoying it, even if it doesn't last forever.
---
For the rest of the month, I don't have to rush through any other ARCs (I just finished Wicked Saints by Emily A. Duncan), because the next one I have doesn't come out until the end of April. Buuuut… I might read it this month. That's Little Darlings by Melanie Golding, and it comes out April 30th.
Grave Mercy by Robin LaFevers is my current read, and it made my TBR because it was finally my turn to get it from OverDrive. But, now I think I'm going to have to go back on the wait list because I'm not in the right mood anymore 😦 I can't believe it's taken me this long to get to this book.
I'm so hoping to (finally!!!) get to The Gilded Wolves by Roshani Chokshi! It was the book for the January OwlCrate, and I only put it off this long because I needed to get through a couple of ARCs first, and then I was hoping it would be the choice for Book Roast's book club, Book in a Jar, and it was! So! Excite!
I'm almost through The Chronicles of Nick by Sherrilyn Kenyon, at last! This is kind of part of a personal challenge I set for myself, to finish some completed series I've started. I just need to read Invision (book 7), which I *just* got from OverDrive as an audiobook, and then…
Intensity, which is (as far as I know) the last one. I can't believe I'm actually going to finish this series, after all this time. I started reading this in like…2012, wow.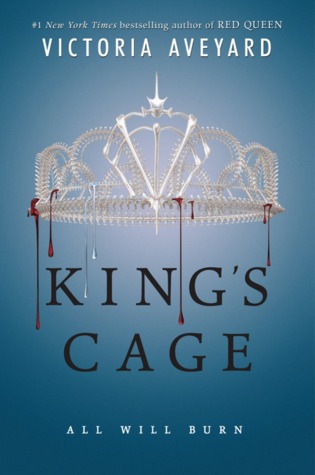 While not officially on my TBR yet, because I'm not sure if I'll be able to get War Storm (finally) this month or not, I'm really hoping I can, so I can finish King's Cage by Victoria Aveyard (book 3 in the Red Queen series). I made it to the halfway point and decided I did want to get the last book, so I'm waiting to finish it. Very impatiently. (I bought the first book, loved it, bought 2 & 3, then forced myself to wait until I'd read those to get the 4th one…like a moron…This is why it blows up in my face when I try to be responsible.)
John Dies at the End by David Wong (aka Jason Pargin of Cracked.com) is also iffy, for totally different reasons. I started this last month, because it was one of husband's picks, and it was fun and amusing for a while. Now, I'm just annoyed by it and strongly considering DNF'ing it. But I am going to try to read more.
I also finally(!!!) got Sawkill Girls by Claire Legrand from OverDrive, and I'm really excited to get to it because I've only heard amazing things. (Also, it's apparently a nominee for a Bram Stoker award, so if I read it, I'll have read a whopping two nominees. I usually don't remember to check nominees until after long after winners have been chosen -_- )
---
Wow, uh.. This is longer than I expected, and I'm thinking maybe I should have split this into two posts
I'll try to keep the Spring Bookish Bingo part short.
The card!
Some books I might read for it:
Warm Climate: Invision by Sherrilyn Kenyon (set in New Orleans)
Weapon on Cover: Grave Mercy by Robin LaFevers (crossbow)
Three Word Title: (Do articles count as words for this?) Dorothy Must Die by Danielle Paige
Novella: Down Amonth the Sticks and Bones by Seanan McGuire
Yellow Cover: Instinct by Sherrilyn Kenyon (I read this at the beginning of the month, so that's done)
Stand-alone: Little Darlings by Melanie Golding (I think this is a stand-alone)
Large Cast of Characters: The Gilded Wolves by Roshani Chokshi
LGBT: The Fever King by Victoria Lee
2019 Debut: Wicked Saints by Emily A. Duncan (I've already finished this one)
The Undead: Undead Girl Gang by Lily Anderson
Author of Color: An Extraordinary Union by Alyssa Cole
---
I might not read most of these, who knows. I don't know what I'll pick for an epistolary, because I think I've exhausted my collection and my library's (it's a tiny library). A school setting might be tricky, too, but I'll dig through my library and my own shelves and do some googling.
I think I have multiple options, either from my shelves or the library, for the others, but I'll just have to wait and see what I'm in the mood for.
---
What are some books you're hoping to get to this month, or during the spring?