Why I read it: I've followed the author on social media for a long time, and added this to my TBR the second it was announced. Then I found it on Net Galley and whatddya know, my finger slipped and I clicked to get an ARC 😛
Who I'd recommend it to: Poetry lovers, poetry newbies, the broken-hearted and people looking for hope…actually I think I'll be recommending this to just about everyone for a while.
My rating: ★ ★ ★ ★ ★

Goodreads | Barnes & Noble | Book Depository | Amazon
---
What it's about (from Goodreads):
A collection of autobiographical poetry about healing and learning to love again from professional-wrestler-turned-poet, Cyrus Parker.

The first half of DROPKICKromance focuses on a toxic, long-distance relationship the author was involved in for several years, while the second half focuses on his current relationship with poet Amanda Lovelace. Ultimately, the collection tells about a profound journey of healing.
---
Review:
Let me just start this off with this super accurate representation of me while I was reading this book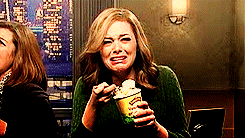 (I totally tweeted this first but whatever.)
What you need before you start reading (aka: what I should have armed myself with before I read it):
tissues

ice cream, chocolate, or some other comfort-food-thing

tissues

bourbon (or your alcohol of choice…if you drink, that is…if not, grab some cocoa or soothing tea, or a great cup of coffee)

did I mention tissues yet?

a pen and paper to catch the inspiration to write you'll be feeling thanks to this book

a backup box of tissues
Seriously folks, this book hit me hard in the feels, and it kept hitting me at unexpected times throughout the entire thing. I would think I was past the things that were going to strike a chord, and then another one would come along. While I've followed Cyrus Parker on social media for at least a couple of years, and have seen some of his poetry in that time, I was not at all prepared for this book or for how much I would relate to some of the poems. My tablet died halfway through reading this, and I was happy about it because it forced me to take a break and pull myself together before diving back in. (Side note: What the heck is up with the technical difficulties I've been having with Net Galley books lately?! Ugh.)
you've sacrificed
so many pieces
of me,
it's only fair
that you sacrifice
something
for me.

— i'm not asking for much.
I went through a lot of emotions while reading this, and it wasn't a bad thing. It was kind of cathartic, actually. I felt some anger, sympathy, empathy, hope, happiness, nostalgia, and sadness, and honestly sometimes I think I felt all of those at once. Weirdly, I only got teary-eyed during the first half of the book, but during the second half I was ugly crying all over my tablet. I think those were mostly happy-tears, though. 
knowing that you're
willing to share
the rest of your life
with me

is knowing that
there must be
some good
inside of me.

— somewhere.
This collection is so brutally honest and heartbreaking (at least in the beginning), but beautifully written, and I can't remember the last time I went through a poetry book so quickly. (I usually end up reading one over the course of 2-5 days in small chunks.) If my tablet hadn't died when it did, I would have read this in one sitting for sure.
I've been anxiously waiting for this book for about a year, and it was so worth the wait. (I could have read it sooner if my reading devices had cooperate *glares at them*) I was looking forward to it, but also nervous and worried I wouldn't like it, or wouldn't love it. Those fears turned out to be completely unfounded, because I. Freaking. LOVED this book. It's definitely made my list of all-time-favorite poetry collections (and probably books, in general), and I'm dying to get a physical copy. I'm crossing my fingers and hoping that might happen this weekend, but I'm not sure it's in stock at the nearest bookstores yet 😥 If not, I might have to break down and just order it because I need it on my shelf yesterday.
Do I recommend it? Hell yes I do! Cyrus Parker is a talented poet and I'm looking forward to reading more from him in the future.