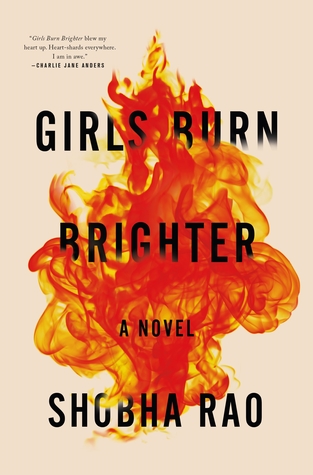 Girls Burn Brighter by Shobha Rao
Genres/Descriptors: contemporary; literary fiction
Publication: 2018
Pages: 309
Trigger/Content Warnings: sexual violence; human trafficking; physical assault & abuse
Check it out on Goodreads
---
What's it about?
This book follows two young women (Poornima and Savitha) from India to the US. The girls first meet when Savitha is hired by Poornima's father to work one of his sari looms, and they quickly develop a close bond. Both girls are very poor, but Savitha is even less well off than Poornima. Despite that, she helps Poornima find hope, beauty, and joy as they work and think about what their lives could be like.
After something horrible happens to Savitha and she leaves their village, Poornima resolves to find her, no matter what. Her journey to find her friend takes her from their small village, through awful ordeals of her own, and finally halfway across the world to the United States.
The book alternates between both points of view, and tackles of a lot of issues women face today all over the world.
---
Review:
This is not an easy book, and I strongly advise anyone who has experienced sexual trauma and/or domestic abuse to steer clear of it. Or at least read a lot of reviews that go in depth about what happens in this book. Find spoilers and prepare yourself, because this one is tough.
There aren't any very graphic descriptions of the acts of violence inflicted on the characters, but a clear enough picture is painted. While I know that things like this are happening countless times to women every day, that didn't make it any easier to read about, and I spent the majority of this novel vacillating between rage, nausea, and something like sorrow or depression.
I won an ARC of this over a year ago in a Goodreads giveaway, and at the time, I didn't know much about it. Thankfully, I ended up in a terrible reading slump around the time the book arrived, and then I lost it for a few months (along with a couple other books I'd gotten from giveaway, because I'm a moron and didn't pay attention to where I put them when I was reorganizing my shelves). I'm glad it took me so long to get to this, because I've had time to read a lot of reviews and prepare myself for it. If I'd gone into this before that, I'm not sure I could have finished it.
This store really feels pretty hopeless, but at the same time, there's this shred of hope that stubbornly holds on, if that makes sense. Through rape and abuse, disfigurement, prostitution, human trafficking, an arranged marriage, and more, both women still hold out hope for getting back to each other, and escaping their circumstances and abusers. The bond between Savitha and Poornima was the one bright spot of hope and beauty in this tragic story.
I really don't know what else to say about this book, because I could honestly talk about it for a very long time, but I think I'm going to wrap this up because I don't think I can accurately convey my feelings without this getting horribly long.
The one thing that irked me a little was the ending. I wanted a little more from it. Yes, I can totally imagine what happened seconds after the last line, but I really wish that was actually on the page. It was a bit disappointing, and I know I'm not the only person who felt that way.
Overall, I think this is an important and powerful book, with strong writing and character development, but it's definitely not for everyone, and it can be quite difficult to read.
I gave it 3.5 out of 5 stars
★ ★ ★ ★ ☆