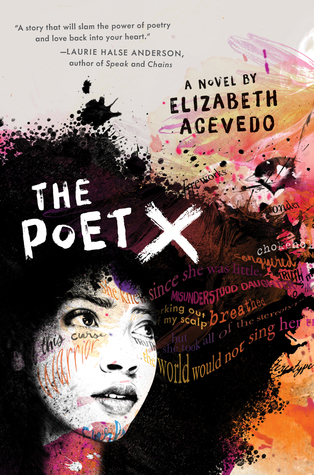 Genres/Descriptors: contemporary; YA; poetry (a novel in verse)
Why I read it: A novel about poetry/a poet, written in verse? How could I not pick it up?
Who I'd recommend it to: If you're into poetry at all or have enjoyed verse novels in the past, and/or if you enjoy YA contemporary stories, I highly recommend this one. Even if you're not sure if a novel in verse is for you, I'd still recommend checking it out.
My rating: ★ ★ ★ ★ ★
Goodreads | Amazon | Barnes & Noble | Book Depository | Books a Million | IndieBound
---
What it's about (from Goodreads):
A young girl in Harlem discovers slam poetry as a way to understand her mother's religion and her own relationship to the world. Debut novel of renowned slam poet Elizabeth Acevedo.

Xiomara Batista feels unheard and unable to hide in her Harlem neighborhood. Ever since her body grew into curves, she has learned to let her fists and her fierceness do the talking.

But Xiomara has plenty she wants to say, and she pours all her frustration and passion onto the pages of a leather notebook, reciting the words to herself like prayers—especially after she catches feelings for a boy in her bio class named Aman, who her family can never know about. With Mami's determination to force her daughter to obey the laws of the church, Xiomara understands that her thoughts are best kept to herself.

So when she is invited to join her school's slam poetry club, she doesn't know how she could ever attend without her mami finding out, much less speak her words out loud. But still, she can't stop thinking about performing her poems.

Because in the face of a world that may not want to hear her, Xiomara refuses to be silent.
---
Review:
Are you screeching in excitement yet? Folks, I don't know how this evaded me for so long (ok, I do know, it's because I intentionally pulled back from the bookish world because I knew I couldn't buy books for a long time, and I didn't want to be sad). I didn't hear anything about this until….well, actually until I happened across it on Over Drive and looked it up on Good Reads. Seriously, did I just miss all the buzz because I was getting my hermit on, or was there just basically none?
First up, let's talk about that cover. So pretty, right?! That caught my eye first, followed quickly by the word "poet" in the title. The artist was Gabriel Moreno and I'm kind of obsessed. It's just so gorgeous and perfect and I feel like it really goes with the book. Check out more of Gabriel's art here, if you're interested (I was, and I'm really loving it).
Ok, onward to the book itself!
As most novels in verse are, this was a pretty quick read. It's a little over 350 pages, but I could have easily read it in one afternoon if I'd been able to sit long enough. (Don't you hate it when you're really loving a book but things like laundry keep interrupting?) I tore through this book and I'm really thinking about buying a copy. I feel like I could re-read this one a few times.
Xiomara…oh gods, where do I start? This girl is a fighter, in more ways than one, and I feel like this book is very timely. I think teenagers today need more books like this in their lives, and I wish I'd had this book when I was 10-12 years younger, because it would have hit me even harder and inspired me even more. I can honestly see this making it onto reading lists at some point (I'm really not sure how that works, but I know it's going to be on my kid's reading list in a few years).
The home life Xiomara had really hit close to home for me in some ways. She grew up with a Catholic family, while I grew up in a Protestant home, but her relationship with her mother reminded me of my life a bit. I didn't actually expect to relate a lot to anyone in this book, because their life experiences are very different than mine in pretty much every way, but it happened anyway and broke my heart. But Xiomara, wow. She handled things so well (I can't think of a better way she could have handled anything, really), definitely better than I would have, and I felt so proud of her. There was this one scene with her mother that made me go cold all over because it brought back memories, and my heart ached for her. I had to take a break for a while after reading that bit.
I had so many feelings while reading this. I seriously laughed and cried, I cringed a little, I whispered "oh no," I cheered internally (and might have had a little fist pumping at some point). So many feelings. It was a journey, and it was wonderful and so real. I felt inspired by Xiomara, and I feel like this book would have been amazing for teenage me. (It was amazing for adult me, but it would have been more amazing for teenage me.)
I enjoy more flowery writing with novels in verse sometimes (or poetry, or novels, in general, honestly), but the contemporary and sometimes very blunt writing in this novel, mixed with metaphors and imagery was refreshing and very well done. Which I guess shouldn't be surprising considering Elizabeth Acevedo is an award-winning slam poet herself. This book was kind of a diary, and I feel like it read like that, if that makes sense. Like, this could have been a real diary, just written in verse. It felt very personal and raw a lot of the time, and it definitely (as I've said) gave me feelings.
This book was just so good and I think I'll be recommending it a lot.