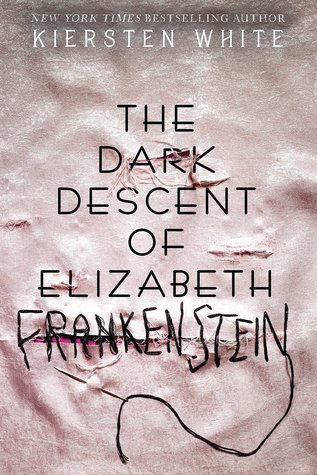 The Dark Descent of Elizabeth Frankenstein by Kiersten White
Genres/Descriptors: YA; retellings; historical fiction; horror; gothic; sci-fi (less so than the original, I think)
Pages: 304
Check it out on Goodreads
---
What's it about?
Okay, I couldn't do this justice, so here's the description from Goodreads…
Elizabeth Lavenza hasn't had a proper meal in weeks. Her thin arms are covered with bruises from her "caregiver," and she is on the verge of being thrown into the streets . . . until she is brought to the home of Victor Frankenstein, an unsmiling, solitary boy who has everything–except a friend.

Victor is her escape from misery. Elizabeth does everything she can to make herself indispensable–and it works. She is taken in by the Frankenstein family and rewarded with a warm bed, delicious food, and dresses of the finest silk. Soon she and Victor are inseparable.

But her new life comes at a price. As the years pass, Elizabeth's survival depends on managing Victor's dangerous temper and entertaining his every whim, no matter how depraved. Behind her blue eyes and sweet smile lies the calculating heart of a girl determined to stay alive no matter the cost . . . as the world she knows is consumed by darkness.
---
Review:
I didn't love Frankenstein, but I did enjoy it a lot. I picked this up on a whim, after finding the audiobook on OverDrive, and I could barely stop listening to it to go to bed. I still finished it within a 24-hour period, and I haven't stopped thinking about it since.
First of all, the narrator (Katharine McEwan) was great. I can be a little picky about narrators, but I thought she was a nice choice for this one. Her voice was just perfect, I feel, for the atmosphere.
I think you could read this without having read Frankenstein, but it will probably be a better experience if you have. *Also, this one needs some trigger warnings, so skip to the next paragraph if you think TWs are spoilers.* TW for: child abuse, animal cruelty, emotional and physical abuse, mutilation, murder.
I hate Victor Frankenstein. I've always hated him, and thought he was the true monster, no matter how brilliant his mind might have been. That's one thing I think Penny Dreadful did really well, but he still ended up kind of redeemed by the end. I don't want redemption for Victor Frankenstein, I want his monstrous inclinations exposed, without justification or letting him play at being a victim. This book delivered, by giving us the story from Elizabeth's perspective.
Elizabeth has a home and relative safety in the Frankenstein household, but that stability depends on Victor and his desire to keep her around. She's spent her life shaping herself into what Victor wants and needs, making herself indispensable to him, so she's no longer quite certain how much of her is really her and how much is what she's forced herself to be for him.
When she stops hearing from Victor, after he's away at school, she gets worried and hatches a plan to track him down and bring him home. Along the way, she gets glimpses into what he's been up to, and that really started to fill in some gaps and flesh out some bits from the original story. It was interesting, and deeply disturbing, following Elizabeth around as she begins to piece things together.
The first half or so of this one is a bit slow, but not boring. Getting to know Elizabeth, and how her mind worked, was slow in a good way, at least for me. She was a strong young woman, and a fantastic, sympathetic, morally grey character, capable of much more than her sweetly angelic visage might lead people to believe. Behind the curls and charming smiles was a sharp mind and a fierce determination to survive.
Her relationship with Victor was so… I can't think of a word that works. It was disturbing and kind of terrifying. He was possessive and cruel, but had also convinced himself that he was acting out of something that at least resembled love in his twisted mind. It was realistic, and that was one of the scariest things about this story.
I loved the atmosphere of this book, and the writing. The entire thing had an unsettling vibe, the sense of danger just around the corner and fresh horrors to discover. (A+ for keeping the gothic vibe intact, and staying true enough to the original story, while still creating something new.) Even though this is a retelling, and I've read the source material, I honestly had no clue how this was going to wrap up. There was a constant sense of dread as I neared the end, fearing for Elizabeth, and anyone else unfortunate enough to cross Victor's path.
I hope this doesn't get spoilery, but I have to also take a moment to discuss the Creature. My heart has always hurt for him, and I think that's why I loved him in Penny Dreadful. He was capable of such terrible things, but at his core, he was gentle and sweet. His character in this story almost made me tear up once or twice, for reasons I won't go into because that would definitely have spoilers. Let me just say that I am so pleased with the way Kiersten White portrayed him.
This book is so hard to talk about without spoilers, because all I want to do is gush about the things I loved. I'm almost tempted to write a second post with spoilers, but I might be too lazy for that 😛
If you can handle this type of story, I highly recommend it. I'm strongly considering buying a copy, because this feels like a book I might re-read. This one is definitely going on my favorites shelf on goodreads.
I was torn between 4.5 and 5 stars, so I'm settling on 4.75 and rounding up to 5 stars.
★ ★ ★ ★ ★