I can not believe I made it through this readathon haha. While it doesn't officially end until the 30th, I decided to go ahead and do my wrap up, since I managed to finish early.
My career choice was Alchemist, because I enjoy torturing myself with huge reading lists 😛 (My backup choice, which was such a close second it took me days to choose between them, was Librarian.) To pursue a career as an Alchemist, I had to read a book for all 12 O.W.L.s, and there were a few times this month when I didn't think I could do it.
Somewhere along the way, I deviated from my original TBR, which I expected would happen, and I'm not upset about it. Well, I'm a little annoyed with my original choice for Astronomy, because I had to move that one to my DNF shelf on Goodreads. It worked out, though, because I ended up loving the book I did finish.
Okay, let's get to the books!
---
Ancient Runes (Retelling)
Cinderella: Ninja Warrior by Maureen McGowan– I impulse-bought this book like 5 years ago from an Ollie's or something like that, because the title made me snort. It was a forgettable, but fun-at-the-time kind of book, which I gave 2.5 out of 5 stars.
Arithmancy (Work written by more than one author)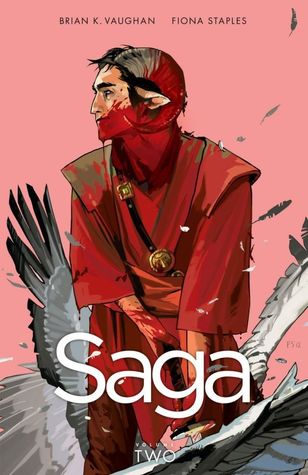 Saga vol. 2 by Brian K. Vaughan and Fiona Staples– I really love these comics, so far, but this is as far as I've read. I picked this up during Dewey's 24 Hour Readathon, and I can't wait to get vol. 3 ASAP. I gave it 5 out of 5 stars.
Astronomy ("Star" in the title)
Stardust by Neil Gaiman– Somehow, I had not read this before. I've had it for a few years, but kept kind of forgetting
This is why I'm almost glad my original choice was a DNF, because I had to search through my Kindle for a replacement and found this gem, which I gave 4.5 out of 5 stars.
Care of Magical Creatures (Land animal on the cover)
Emily the Strange: The 13th Hour by Rob Reger and Buzz Parker– I loved Emily the Strange when I was a teenager, and I still have a soft spot for these comics. This particular topic was hard for me to find a book I haven't read. Apparently, I just don't have a lot of books with animals on the cover
But, Emily to the rescue, with the cats! I gave this one 3.5 out of 5 stars.
Charms (Age-line: read an adult work)
Deadline by Mira Grant– I was originally going to read something else for Charms, but I got sucked into the Newsflesh series for Tome Topple and Spring Into Horror. April was filled with Seanan McGuire books for me, which I'm not complaining about because I love her writing, no matter what name it's published under. I gave this one 4.5 out of 5 stars.
Defense Against the Dark Arts (Reducto: title starts with an "R")
Redamancy by Kat Savage– April is also National Poetry Month, and I didn't think I was going to be able to fit any poetry into the readathons, but I found this one on my shelf and read it during Dewey's. I love Kat Savage, and I'm glad I hadn't gotten around to this one yet because I also have very few "R" title books I haven't read 😛 I gave it 3.5 out of 5 stars.
Divination (Set in the future)
Feed by Mira Grant– The first book in the Newflesh trilogy, and one of my choices for Tome Topple and Spring Into Horror. I love zombie stories, and I think this one has made my list of favorites. I gave it 4.5 out of 5 stars.
Herbology (Plant on the cover)
Little Darlings by Melanie Golding– I had an eARC of this, which I'd planned to read for Spring Into Horror (reviewed here). I'm still not sure if that's submerged branches or weeds or what, but it's plant-like enough, so I used it for Herbology 😛 I gave this one 4 out of 5 stars.
History of Magic (Published at least 10 years ago)
Fingersmith by Sarah Waters– This 2002 novel was one of my picks for Tome Topple, and Spring Into Horror. However, now that I've read it, I'm not counting it for the latter. (It's shelved as a mystery on Goodreads, but I try to stick more to thrillers and horror for things like Spring Into Horror, even though mysteries can be counted.) I gave it 3 out of 5 stars.
Muggle Studies (Contemporary)
A Princess in Theory by Alyssa Cole– I don't read many contemporaries, but thankfully my hold from the library came through in time for me to squeeze this in. This was a super cute and fun read, with some steamy bits, and I can't wait to read the other Reluctant Royals books. I gave it 4 out of 5 stars.
Potions (Next ingredient: sequel)
Down Among the Sticks and Bones by Seanan McGuire– I know, this is actually a series of companion novels, but I'm counting it anyway. I have a review for this one coming soon, but I will say that I really enjoyed it. Jack was my favorite character from Every Heart a Doorway, so I've been dying to read this for a while. I gave it 5 out of 5 stars.
Transfiguration (Sprayed edges or red cover)
His Majesty's Dragon by Naomi Novik– I have very few red-cover books (I think I had 2, maybe 3, that I hadn't read yet) and only one unread book with sprayed edges, so this topic was a struggle. I loved this book, which was my first of Naomi Novik's books, and I can not wait to continue with the series. I gave it 5 out of 5 stars.
---
Whew! That was a lot of books, even if a few of them were pretty short. Bless audiobooks ❤ I listened to three of these (Feed, Deadline, and A Princess in Theory), and listened while reading along to Fingersmith, and that really helped, I think.
I can't wait for the N.E.W.T.s now haha. I didn't get to participate in either readathon last year, and I'm really excited about all of this. I think G (BookRoast on YouTube, the creator of these readathons) has done such an absolutely amazing job, and you can really tell that she cares about this. There's so much detail and thought put into it, and it honestly almost makes me cry happy tears when I think about it ❤