I seriously doubt I'll stick to weekly wrap ups because A) I don't have the time, focus, or patience for it, and B) my life (including my reading life) is pretty boring honestly. But, I felt like trying something new, and I wanted to make a blog post.
---
Reading stuff:
2018 started off strong, and then tapered off dramatically in like two days.
Why? Well, at the end of 2017, I decided to try to finish series I've started but never finished. I have quite a few of these (or at least parts of them) sitting on my shelves, and it's time I finally get through the ones that are complete, or will be soon.
I was excited about re-reading The Southern Vampire Mysteries (aka the Sookie Stackhouse series, aka the books True Blood is based on) because I'd just finished True Blood and I (finally!) had all the books. Yay! (I'd read all but the 13th a few years ago, and have since forgotten basically everything
)
But no. I read up to Dead Reckoning, finishing it in the wee hours, and got up later and reached for my copy of Deadlocked (the 12th of 13 books in the series)…and it wasn't there.
I tore my house apart all day looking for it. No luck finding it, but I did find about 6 billion spiderwebs, 5 missing DVD,s, a few other missing books, and a partridge in a pear tree. (Ok, not the partridge, but everything else.)
Then I checked Overdrive. Huzzah! The entire series is there! But no. The license for just the last two books has expired.
But wait! My library has a physical copy! Nope. That was when the below freezing weather began and husband has been working snow removal, and heck if I'm driving an hour one way across a mountain in the snow and ice just to check out one book.
Finally, I looked on goodreads to see what the edition I'd read previously was (I'm obsessive about getting the right edition shelved, except in rare instances, like back before we had the re-read option). Hardcover. No, that can't be right! I only owned books 9 and 10 in hardcover!
So, it turns out I never actually bought book 12. *sigh* I have books 1-11 and book 13, as well as the complete stories, but not book 12. That frustration kinda killed my desire to keep reading.
But all is not lost! I'm starting a buddy read of Hidden Figures with one of my friends, now that we've both managed to get a copy.
Hopefully, since the days are supposed to warm back up a bit this week, I'll be able to finish it, get to the library and check out Deadlocked, and get back on track. (Bonus Timon! 😛 )
---
Life stuff:
You really don't want to hear about it. Basically, this is me right now: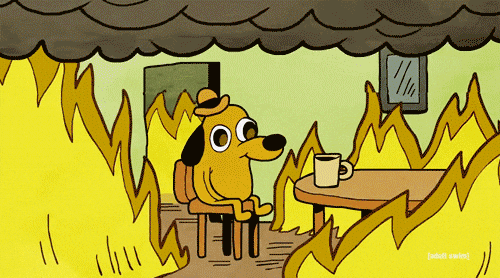 ---
Blog stuff:
I'm working on figuring out a new schedule because some of the weekly meme things I used to participate in don't seem to be active anymore.
I'm also reading an ARC I should have read last year (my surgery, the kittens, and NaNo really threw off my reading and reviewing, eek) and will hopefully have finished and reviewed around the middle of the month. 
I've gone through my files and deleted pretty much all my (ugly) original featured image things. I'm planning to take some pictures, maybe doodle some, and play around a bit more with GIMP. Hopefully, I'll have new ones that look better on posts by mid-February.
That's a project I've been meaning to work on for almost a year, and it's really not something I'm looking forward to because I have a lot of ideas, I'm not particularly talented, I'm a little lazy, and I tend to lose interest in projects like that halfway through. (There's a reason I have a few scrapbooks and the like with only a few pages finished. *sigh*)
Lastly, I'm still trying to figure out what I want to do for my 2017 wrap up -_- That should be up in a few days.
---
On the agenda for today:
Hopefully knocking out a chunk of Hidden Figures, not freezing to death (it's actually not that cold, it's only like 0-ish outside and between 50-60 degrees inside), and getting started with those featured images. And getting pictures I've been meaning to take since Christmas, of my holiday book haul, because I'm sick of looking at my tree and meant to take it down on the 1st, but keep putting it off because I want it for those pictures.
---
How's your 2018 going so far?
Have you finished any books?
What are you reading now?