We're halfway through the O.W.L.s Magical Readathon, as well as Spring Into Horror, and Tome Topple began on Saturday. My original TBR for the O.W.L.s is here, and for the other two, it's here, if anyone is curious.
Honestly, I did not expect to even come close to finishing any of my TBRs, because trying to juggle books to make things work for three different Readathons was a big challenge. Then Dewey's 24 Hour Readathon happened (my wrap up post is here), and that helped a lot. I'll try to keep this as brief as possible, because it's been a shockingly good reading month so far.
---
I've read:
Redamancy by Kat Savage– This one was read for Dewey's, and I used it for Defense Against the Dark Arts for the O.W.L.s Readathon.
Emily the Strange Vol. 3: The 13th Hour by Rob Reger & Buzz Parker– Another Dewey's book, which I also used for Care of Magical Creatures for the O.W.L.s (there are cats on the cover).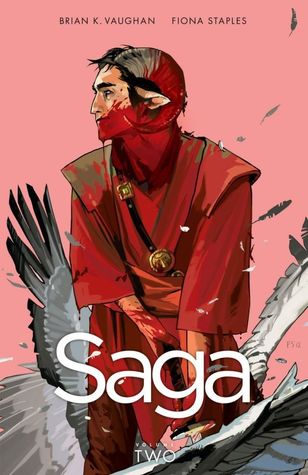 Saga vol. 2 by Brian K. Vaughan & Fiona Staples– Yep, another for Dewey's. I counted this one for Arithmancy for the O.W.L.s Readathon.
His Majesty's Dragon by Naomi Novik– I finished this one during Dewey's, but I'd started it for the O.W.L.s before that as my Transfiguration book.
Down Among the Sticks and Bones by Seanan McGuire– I barely squeezed this in before Dewey's ended, and used it for Potions.
Little Darlings by Melanie Golding– I read this eARC (review coming in a few days!) for Spring Into Horror, and used it for Herbology.
Cinderella: Ninja Warrior by Maureen McGowan– I picked this one up for Ancient Runes.
A Princess in Theory by Alyssa Cole– I finally got this (audiobook) from the library and counted it for Muggle Studies.
Feed by Mira Grant– This was my first read (well, listen, because my library only had the audiobooks of the Newsflesh series) for Tome Topple (which I'm counting as an Adult Book for the challenges), and it worked for Divination for the O.W.L.s, as well as Spring Into Horror.
Deadline by Mira Grant– I just finished this one as my second book for Tome Topple (I'm using this for part of a series, for the challenges), and it also counts for Spring Into Horror. I swapped out my original choice for Charms so I could also squeeze this into the O.W.L.s also.
---
To break that down, here's where I stand:
I've read 10 total books so far this month (4 were under 200 pages, with 2 being comics and 1 each of poetry and a novella, and 3 books I read were audiobooks).
That puts me at 10 of 12 books for the O.W.L.s Readathon (I still need Astronomy and History of Magic).
I've read 3 books for Spring Into Horror.
I read 4 whole books (and completed a 5th I was almost finished with already) during Dewey's 24 Hour Readathon.
I've read 2 books for Tome Topple.
I've DNF'd 1 book for Tome Topple and the O.W.L.s Readathon (it was my Astronomy pick on my original TBR lists).
I have to say that I'm very grateful for audiobooks haha. But, after Blackout (the 3rd book in the Newflesh series, which I'm starting today), I think I'm out of audio options that I can use for more than one Readathon.
I did deviate from my original TBRs a bit, but I'm not unhappy about it. The plan was to focus more on books I own for Tome Topple, but oh well 😛 I'm really liking the Newflesh books, and they've been on my mental and goodreads TBR for ages.
(I really need to make a featured image for Readathon posts
)
---
If you're participating in any Readathons this month, how's it going for you?