Alright, this is more like a chatty, rambling thing than a review. Whatever. I need to talk about this freaking book! (This was supposed to post earlier, but apparently I didn't check that the scheduling time was set for AM instead of PM *facepalm* )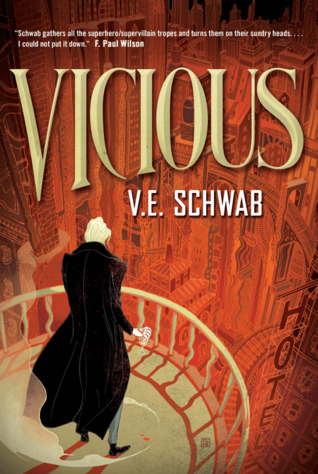 Description from goodreads:
Victor and Eli started out as college roommates—brilliant, arrogant, lonely boys who recognized the same sharpness and ambition in each other. In their senior year, a shared research interest in adrenaline, near-death experiences, and seemingly supernatural events reveals an intriguing possibility: that under the right conditions, someone could develop extraordinary abilities. But when their thesis moves from the academic to the experimental, things go horribly wrong.

Ten years later, Victor breaks out of prison, determined to catch up to his old friend (now foe), aided by a young girl whose reserved nature obscures a stunning ability. Meanwhile, Eli is on a mission to eradicate every other super-powered person that he can find—aside from his sidekick, an enigmatic woman with an unbreakable will. Armed with terrible power on both sides, driven by the memory of betrayal and loss, the archnemeses have set a course for revenge—but who will be left alive at the end?
Review(ish)
You guys…I had this book for so long. SO. LONG. I had the original cover (the one I used above), and I'm pretty sure I got this in like 2014, but didn't read it until last month. At first it was because I wasn't in the right mood, but I really wanted to read it as soon as I finally was. Then, we got the news about the sequel, so I waited. And waited. And waited. I still don't have Vengeful (I tried to pre-order it, but my B&N order was randomly cancelled, and I'm still mad), but hopefully soon.
Anyway, this is about Vicious, so back to that.
This. Freaking. Book! If you've read it and are a fan, I'm sure you can imagine my feelings. From the very beginning, literally the first page, I knew I was going to love this book. I loved Victor and Sydney immediately, and oh my gosh Mitch ❤ And Dol ❤ I love them, and they are all my precious book children. (Well, okay, I might be referring to Victor as my first book boyfriend in like 12 years, but that's beside the point.)
The relationship between Victor and Sydney could have been creepy, but it wasn't. It was a little heart breaking at times, but I also felt like the Grinch near the end at one part, when Sydney went looking for Victor after an encounter with her sister. I honestly thought my heart was growing three sizes when I read Sydney's thoughts, oh my gosh.
Mitch might have been my favorite character? I'm not totally sure. I loved the whole trio, but Mitch was just such a freaking cinnamon roll. I felt terrible for him and his backstory, and I made the most ridiculous screeching at one part when he was in a bathroom. (I am trying so hard to avoid spoilers, in case there's anyone who hasn't read this yet.)
I hated Eli. Right away, I hated him, and kind of started hoping something really terrible was going to happen to him not long after we started getting to know him. He might be the first "love to hate them" character I've encountered (on this level) since Umbridge 😮 I had so much fun hating him, which probably seems kind of weird, but oh well.
This book was so weird. I loved the take on EOs (ExtraOrdinaries) in this universe so much. While I do tend to enjoy sci-fi, sometimes I'm kind of "meh" about the actual science-y things. With this one, I don't really know how to feel about it, like how much research and actual facts went into this book, because I haven't checked anything out. Regardless of whether or not any of it was based on facts, it was delivered very well, and I don't think I've ever come across an explanation for EOs quite like the one in this book, so that was refreshing. Everything about the "birth" of them was strange and new (to me), and I really enjoyed learning about it. I'm pretty sure that, by the time the full explanation came out, I wasn't left dissatisfied and wondering about tons of things that weren't addressed, which I really appreciated.
I've heard the "morally grey characters" bit said about this book by pretty much everyone who's read it and talked about it, so I expected that, but I didn't know what it would be like. I thought it was great. It was nice not really having a hero character who's all morally superior, with clear distinctions between the hero and villain/antagonist and which side they're on (good vs evil). I want more books with characters like these, and I want them noooow. (If you have recs, oh my gosh, please let me know in the comments!)
Am I being at all coherent with this? I'm trying, but I'm still just kind of flailing around and honestly thinking about re-reading it already.
Basically, this was one of my favorite books of the year. It wasn't actually my favorite, but it was very close. Probably in my top 3? It's definitely going on my "all time favorites" shelf on goodreads, though, and I did give it 5 out of 5 stars.
The pace was good, the flashbacks didn't bother me (sometimes they annoy me in books, but I liked them in this one), the characters were fantastic, and the plot was very good. I'm really hoping to get Vengeful this weekend (fingers crossed!) because I want more ❤