T5W is a weekly meme created by Lainey from gingerreadslainey, now hosted by Sam from ThoughtsOnTomes. You can check out the goodreads group to learn more.
March 28: Favorite Teachers/Mentors 
— Typically, we read about our protagonist being taught by someone wiser than they, whether is it is a teacher as we know them or more of a supernatural/magical mentor. Talk about some of your favorites! 
I was *thisclose* to not even doing this topic because I was having a really difficult time coming up with characters who could be considered mentors or teachers…that I actually liked…and weren't from Harry Potter.
I ended up thinking outside of books, which got my mental gears turning and helped me come up with more than five, so I ended up having to narrow it down, in a shocking turn of events 😛
---
Baghra from the Grisha Verse trilogy by Leigh Bardugo– Oh my gosh, I loved this woman so much and I still have so many feelings. So. Many. Feelings. (If you've read the series, and liked her, you probably know why.)
Miss Honey from Matilda by Roald Dahl– I almost forgot about her, but happened to catch sight of my Dahl section and totally face-palmed. Miss Honey gave me hope when I was a kid in an abusive home, and I actually had a teacher who was as close to being like Miss Honey as is possible in the real world.
Bob the skull from The Dresden Files by Jim Butcher– Ok…Bob isn't exactly a teacher. He's more like a portable encyclopedia with a snar-castic attitude. But I love him, and he really helped Harry out, so I'm counting him. (Bob is probably one of my all-time favorite book characters, as a side note.)
Dimitri Belikov from The Vampire Academy series by Richelle Mead– All swooning and such aside, I loved Dimitri and I think he would be a fantastic (and terrifying) teacher. I feel like he's going to be gracing a lot of lists this week heh.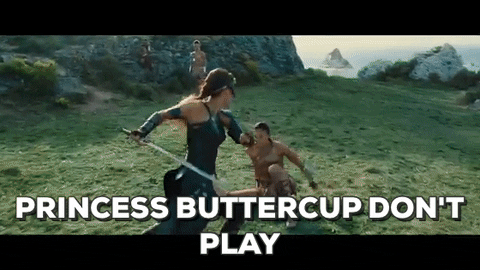 Antiope from Wonder Woman– I don't care if she counts or not for other people, she counts in my opinion. I freaking loved Wonder Woman (I've been driving my kid crazy by re-watching it so much haha), and Robin Wright was freaking badass. (I had to use this gif because I snorted soda when I came across it.)
---
Honorable mentions:
George Feeny from Boy Meets World
Robert Langdon from Dan Brown's Langdon series
Tieren Serense from the Shades of Magic Series by V.E. Schwab
Katherine Watson from Mona Lisa Smile
Miss Peregrine from the Peculiar Children series by Ransom Riggs
Gandalf from The Hobbit/Lord of the Rings by J.R.R. Tolkien
---
Who are some of your favorite fictional teachers/mentors?