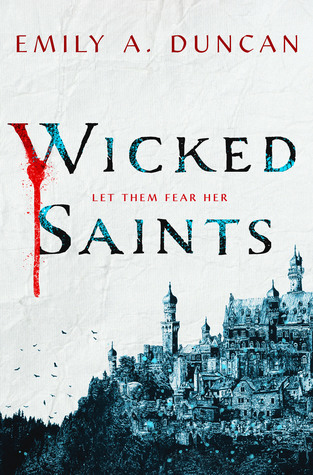 Wicked Saints (Something Dark and Holy, book 1) by Emily A. Duncan
Genres/Descriptors: fantasy>dark/Gothic; YA
Publication: April 2nd, 2019
Pages: 400
Check it out on Goodreads
Pre-order it: Barnes & Noble | Indiebound | Amazon | Book Depository
---
What's it about?
A girl who can speak to gods must save her people without destroying herself.

A prince in danger must decide who to trust.

A boy with a monstrous secret waits in the wings. 

Together, they must assassinate the king and stop the war.

In a centuries-long war where beauty and brutality meet, their three paths entwine in a shadowy world of spilled blood and mysterious saints, where a forbidden romance threatens to tip the scales between dark and light. Wicked Saints is the thrilling start to Emily A. Duncan's devastatingly Gothic Something Dark and Holy trilogy.
---
Review:
I'm going to start off with trigger warnings, because it's not really a spoiler. Emily A. Duncan has been pretty forthright about them, also. Trigger/content warnings for: blood and self-harm; parental abuse; torture (I can only remember one scene that wasn't super graphic or long, but I might have forgotten others). Also, several characters drink heavily a few times.
This book was one of my most-anticipated 2019 releases, and I have mixed feelings about it. On the one hand, I absolutely loved the aesthetic (look at that cover ❤ it screamed "Read Me!"), I was very intrigued by what little I knew of the plot, and I'm trash for anything involving death and blood magic. Then, I saw something about this being perfect for people who shipped Alina with the Darkling, and I was sold. (I only shipped them if she decided she wanted to be villainous. Otherwise, I shipped her with Nikolai, at least briefly.) Anyway… Yes, yes you should probably read this book if the dynamics with Alina and the Darkling were your thing, even if you didn't actually want them together.
I really enjoyed the setting, but I kind of wish we'd gotten more detailed descriptions, or time spent exploring the world. I didn't have much trouble visualizing anything, I just wanted more because what we did get had me hooked. It was cold and bleak, fitting perfectly with the story, but I kept craving more details. I'm not complaining too much, though, because instead of focusing a ton on the world, more time was spent on the characters. I really need to see if there's fan art or something of any of the places our characters visited…
Nadya was a character I wanted so much to love, but I only kind of liked her. In the beginning, I was totally rooting for her and I was super invested in her story, her journey, her saint/gods-given-magic, etc. But, as things progressed, she started to get on my nerves a little. However, it wasn't because she was doing things suddenly that were out of character for her or anything like that, and the reasons that were probably to blame for my issues were things that made sense. Wow is that vague. Let me just say that some of my issues probably had to do with how she was brought up, and what she was indoctrinated to believe and do. Because of some things that happened closer to the end, I'm very interested to see how her character develops through the rest of the series.
Malachiasz was a very mysterious character, from the beginning, and it isn't until the last chapters that we really learn most of his story. I suspected things earlier, but I knew his story could go other ways, so I wasn't certain until the reveal. I loved Malachiasz, and oh my gosh, even if I didn't like any of the other characters, I would pick up the next book just to find out what happens next with him. That! Ending! I literally screeched and scared my cats, and was *thisclose* to flinging my Kindle in my excitement (I was kind of dancing around…it was very dignified). I am so excited to find out where this series is going.
Serefin was the guy I wanted to hate, but just couldn't. Even when he first showed up, cast as the bad-guy blood-mage, I wanted to know more about him before deciding if he was a bad guy or not. He reminds me the tiniest bit of Cal from the Red Queen series, but it's hard to explain why, without going into a ton of spoilers. Okay, I'll say that there's a thing he's good at and that he wants to do, but he can't really because of royal obligations. While I didn't love Serefin as a character, I thought he was interesting enough, especially close to the end, and I'm really curious about what will happen next with his story.
I enjoyed the side characters, especially Parijahan, Rashid, and Ostyia. I would love more backstory for them (and Kacper, but for some reason, I cared less about him). My favorite character from this book was Pelageya, even though she was only in like two scenes. I really hope she has a bigger part in the next book, because I have so many questions, and I want to know more about her. (Plus, she was entertaining.) There were a few other, but I think we got the most time with these, except Pelageya.
Where this book fell short for me was in certain aspects of the plot. There were times when I was just so confused, or wanted more information (like, a lot more) to better explain what was going on. It almost felt like there were parts missing or something. However, I really like the magic systems in this universe, and I can't wait to find out more (hopefully) in the next book. What was shown in this book was great, but I wanted more. More explanation about how things worked, the history, etc., and more on-the-page use of the magic. There wasn't really a shortage of it, it just seemed like most of the scenes were brief and kind of sparse on the details, so I wasn't totally satisfied.
The theological questions raised for some of our characters was really interesting for me, and I can't wait to see those themes explored more in future books. In this blood magic vs holy magic (granted by gods/saints) war, I felt like it was really hard to say if either side was "right." I loved that. I loved that there were no clear "good guys" or "bad guys" in this story. I want to talk more about that, but spoilers 😦
There were things that we were basically beaten over the head with, to really make sure the point was driven home. That was frustrating, and I hope the next book isn't like that.
Something about the pacing was weird at times, too, especially with relationships. I felt like trust happened a little too easily, especially given the circumstances all the characters were in. And there was the romance. That did not come out of the blue or anything (I was expecting it from the moment our characters met), but it felt like it happened very quickly. I don't think it actually did, but I'm not totally sure of the timeline and how much time had elapsed between them meeting and falling for each other.
Overall, I enjoyed this book, but I didn't love it. I would still recommend it, and I will be continuing the series, because I'm pretty invested in finding out more about these characters and this world.
I still can't decide between 3 and 4 stars (it's somewhere in between for me), so I'm just going to say it's 3.5-ish stars.
★ ★ ★ ☆ ☆
Thanks to NetGalley for letting me read an advanced copy. I can't wait to get my hands on a finished copy, because this book is stunning ❤