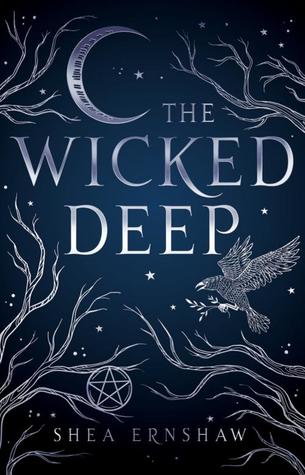 Genres/Descriptors: YA; Fantasy/Paranormal
Why I read it: I had this on my list for months, anxiously awaiting release day.
Who I'd recommend it to: Ok, this book was promoted as a meeting of Hocus Pocus, Practical Magic, and the Salem Witch Trials. If that sounds appealing to you, I say check it out.
My rating: ★ ★ ★ ★ ☆ (maybe 3.5 stars?)
Goodreads | Barnes & Noble | Book Depository | Books a Million | Amazon | IndieBound
---
Goodreads Description:
Welcome to the cursed town of Sparrow…

Where, two centuries ago, three sisters were sentenced to death for witchery. Stones were tied to their ankles and they were drowned in the deep waters surrounding the town.

Now, for a brief time each summer, the sisters return, stealing the bodies of three weak-hearted girls so that they may seek their revenge, luring boys into the harbor and pulling them under.

Like many locals, seventeen-year-old Penny Talbot has accepted the fate of the town. But this year, on the eve of the sisters' return, a boy named Bo Carter arrives; unaware of the danger he has just stumbled into.

Mistrust and lies spread quickly through the salty, rain-soaked streets. The townspeople turn against one another. Penny and Bo suspect each other of hiding secrets. And death comes swiftly to those who cannot resist the call of the sisters.

But only Penny sees what others cannot. And she will be forced to choose: save Bo, or save herself.
---
Review:
First, I just have to say how weird my acquisition of this book was. It was one of my most anticipated 2018 releases, but I'd forgotten when it was coming out. I was at a bookstore, saw it, squealed with delight, and bought it. It was only later (like, days later) that I realized I'd bought it within like 48 hours of its release. I almost never buy brand new release books. It's like it was fate.
Anyway…
I read this in a day, and this has not been the best reading year for me (so. many. slumps.), so that's saying something. I really enjoyed it, and thought it was a fun book, but there were a few things I didn't love (which I'll get to).
What I did like was the general concept. After reading it, I totally get the Hocus Pocus and Practical Magic comparison. It's not a copy of either of those, but there are familiar elements (the three sisters, the small town thing, etc.) that reminded me of both.
The story just kind of floated along. The only way I can describe how I felt while reading it is "enchanted." This book definitely had me under its spell, and I completely lost track of time while reading it. It's a bit dark, spooky, and haunting without crossing over into horror, with a touch of mystery. Honestly, it read a lot like a fairytale.
It alternated between the present and the past in a way that didn't bother me (I hate random time jumps, but this one wasn't like that at all) and let the story unfold gradually, giving you little pieces of past and present until the end when the whole picture was revealed.
I kind of suspected a few of the twists really early in the book that turned out to be right, but I was still a little surprised by how everything eventually played out. All in all, I was pretty satisfied with the mystery aspect of the story.  
The setting for this (Sparrow) was one of my favorite parts of this book. Shea Ernshaw did such a good job creating an atmospheric place that seemed to exist just a little outside the rest of the world. 
This is kind of a spoiler, but not really, so I'm just going to say it: insta-love. I generally hate it, and I didn't love it in this book, but I was able to just kind of roll with it. By the end of the book, I had really mixed feelings about it, but I won't go into that because that would definitely be spoilery.
One of my biggest complaints is probably the characters. I like really getting to know the characters in a book, and I didn't really get that with this book. Some were better developed than others, but I wanted to know more about pretty much everyone.
I can't talk about the thing that I disliked the most about this book without giving away a lot of stuff, but (while I'd guessed it early on) some things towards the end were not my favorite.
Still, I really enjoyed this book, and I'll definitely be keeping an eye out for more books by Ernshaw in the future, because I loved her writing.
---
Have you read it? What did you think?