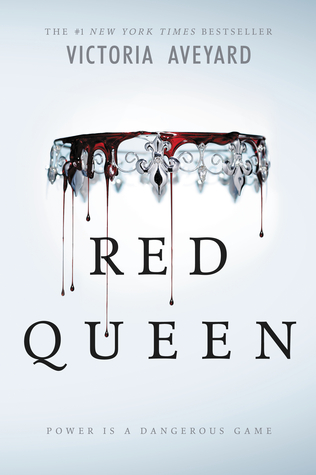 Red Queen by Victoria Aveyard (book one in the Red Queen quartet)
Genres/Descriptors: YA; fantasy; SFF>dystopian
Pages: 383
Check it out on Goodreads
---
What's it about?
People are divided into two classes based on the color of their blood. The Reds are normal people, just like us, but the Silvers have silver blood and abilities, kind of like X-Men. Silvers rule over Reds, and they're not exactly kind overlords.
Mare Barrow is a seemingly normal, seventeen-year-old Red girl, but when she lands a job at the palace, she–and the royal family–find out that isn't the case.
Somehow, Mare possesses an ability.
To control the situation, the Silver royals come up with a plan to hide Mare's true nature by giving her a new identity as a Silver orphan, taken in and raised by Reds, and set her up to be a princess, engaged to one of the princes.
Mare has to be very careful, because the world is watching. One wrong move and she'll be killed to protect the secret. Despite that, she helps the Scarlet Guard, a resistance group determined to bring down the reign of Silvers and free the Reds.
Navigating this world of ballgowns, jealousy, and suspicion isn't going to be easy, especially when anyone can betray anyone, at any time.
---
Review
Possibly unpopular opinion alert, but… I really like this book. I've read it twice, and I rated it the same both times. Is it my all-time favorite? No. But I really enjoyed it. (If you want a quick overview of my thoughts, instead of the long version, scroll to the bottom.)
Mare is great in this book. She was a badass, and risked so much to protect people she cared about, and Reds in general, and I admire her for that. I also just really liked her as a character. Despite everything, she believed in a better future, saw the good in people, and cared deeply for others. She had flaws, sure, and there were a few times I wanted to scream "Trust no-one!" at her, because that seemed like the best course of action. I wasn't entirely right or wrong for feeling that way.
I think my favorite character was actually Julian, a Silver. He was kind and scholarly, and I enjoyed him, as well as his relationship with Mare as he tried to help her understand herself and her ability. She really should have taken to heart some advice he gave her, though.
The princes…oh boy, do I have feelings about Cal and Maven. I kind of felt sorry for both of them, for different reasons. Maven really wormed his way into my heart, but I still liked Cal better. Okay, I can't talk about my feelings about them without spoilers, so I'm just moving on, ugh.
I feel like the world building is where this novel struggled a little. While I didn't have any trouble visualizing most of what was presented, it was weird trying to put all the pieces together. This is a fantasy dystopian, and I settled on trying not to think of it like our typical YA dystopians (set in our world, in the future) and more like an alternate world or whatever. There were some technological things we have (guns, cameras, etc.), but also things we don't have…I think. And there were swords. Why? I don't know, but I'm kind of into it.
Silver abilities, holy crap. That was one of my favorite things about this book and this universe. I was an X-Men kid, and I grew up watching the cartoon and kind of reading some of the comics, as well as a couple of books I had. I loved X-Men, and I still do. The abilities of the Silvers in this book are similar to that, without seeming like a total rip-off.
There were Silvers who could control metal, fire, water, plants, those with super-human strength, or rock-hard skin. Silvers who could move faster than the eye can track, who can bend light to become invisible, those who could control minds, etc. There were a lot of abilities, and they were all super cool in my opinion.
And then there's Mare. I'm not going to say what her ability is, but it was freaking awesome, and I was so excited about it after it was revealed during Queenstrial. There's a scene at the end that had me practically screaming with excitement about it.
The plot itself was probably the most trope-y, but I didn't mind it. I could definitely see why people were comparing it to some other dystopians, but I've realized that I haven't actually read that many. Maybe that's why it didn't bother me. I guess, if you've read a dozen YA dystopians, this one might not stand out much.
The thing that did stand out to me was how Mare was what I expected, mostly, from a dystopian heroine. She was pretty selfless and all that, like Katniss and Tris. Oh, and the sort of love triangle. But this one…wow. This was a love triangle that surprised me, and I'm still not okay, even though I've read this book twice. I'm still shocked by that thing that happened.
*deep breath to reign things in because this is getting long*
Okay, let me try to summarize my thoughts:
Mare was a great character, and I was rooting for her from the beginning.
I love the Silver abilities, and Mare's. I want to know more about how Reds and Silvers…happened. (That's at least hinted at in a later book, but I've only read halfway through King's Cage so far.)
I liked that there wasn't any info-dumping, at least as far as I remember. Even by the end, there's still so much we don't know, and I like that. I think this was a pretty solid (although not totally perfect) start to a series.
This book was really fast-paced and a fun read, but you probably won't like it as much if you've read a ton of YA dystopians. However, having a more fantasy dystopian than sci-fi dystopian was an interesting change, at least in my opinion.
The world building could have been a bit better, but I was fine with it.
The plot was semi-predictable, but there were still twists I didn't see coming.
I don't know what to say about the writing. It was really good, in my opinion, but not in a way that really stands out. I actually kind of like that. I get tired of really poetic and lyrical writing sometimes, and it's nice to read something that flows well, but isn't really flowery.
After finishing my re-read, I immediately grabbed Glass Sword because I had to know what happened next.
It's not absolutely mind-blowing, but I really enjoyed it.
Both times I read it, I gave it 4 out of 5 stars
★ ★ ★ ★ ☆