I've officially given up on Blogtober 😦 I was really looking forward to it, but between my internet going out constantly, all of us being sick, and some other personal stuff, it hasn't exactly worked out.
Oh well.
---
I failed at even posting Top 10 Tuesday, Top 5 Wednesday, or Fairy Tales Fridays because I was sick and/or in pain all week. Well, except for Monday, which was my birthday and I miraculously didn't have a terrible day. (I'd planned to do the birthday party book tag again, but some unexpected things came up and my internet was down almost all day Sunday and Monday, ugh.) I woke up sick on Tuesday, though. Hopefully next week things will be back to normal.
---
I'm super behind on the SomethingWickedFall read along (I'm literally only 35 pages into Something Wicked This Way Comes). I am so, so bad at read alongs, even when it's just me and a friend reading the same book. I'll probably do what I usually do and end up reading the whole thing in a day or two soon. Something about scheduled reading just doesn't work for me.
---
For R.I.P. XIII, I haven't read anything, either. But, I already succeeded at Peril the First (reading 4 books), and this week has been all about Peril On the Screen. I've watched:
The Babysitter (I'm torn about how I feel about this. I thought it was amusing at times, but something about it gave me weird feelings.)
The Haunting of Hill House series (I watched this one while I was sick earlier this week and I really liked it. It deviated from the book, but it was fun.)
The Lodgers (Uuuuuggggghhh. I had hoped this would be good because the description was intriguing, but I kind of hated it.)
Scream, Scream 2, Scream 3, and Scream 4 (This might be my favorite horror movie franchise, and I'm so mad that the opening scenes of Scream 4 are cut from the version on Netflix. Unfortunately, my DVD was murdered a couple of years ago, so Netflix was my only option.)
Beetlejuice (This is one of our most-viewed movies and I think we have like 3 copies.)
Hansel & Gretel: Witch Hunters (I love this movie. It's ridiculous, but so much fun.)
A Nightmare on Elm Street (One of my favorite horror movies. I've always been a Freddy fan. I never really cared for Michael or Jason. And I hated the 2010 remake, ugh.)
The Town That Dreaded Sundown (I'm not sure I'd ever seen this entire movie before this week. This one won't be a movie I re-watch much, I'm sure, but I liked it.)
Dark Shadows (Another one that's kind of ridiculous, but fun. I've only seen a few episodes of the series, so I don't know how much they butchered things for the movie.)
Sleepy Hollow (This is the point where I started to think it was either Johnny Depp or Tim Burton week in my house. This was one of the first horror movies I saw in theaters, and I love it. This one is seriously only loosely based on Irving's story.)
Corpse Bride (Another movie that gets played a lot in my house. It always makes me miss my piano, though.)
Maybe next week I'll get in some short stories and a book or two.
---
And that's a wrap. October is not turning out to be a great reading month, but there's still 10 days, so who knows? I'm hoping to read at least a couple more books this month, and I'm keeping my fingers crossed about a couple of library holds getting to me soon.
---
Oh my gods, I just realized there are only 10 days left until NaNoWriMo starts…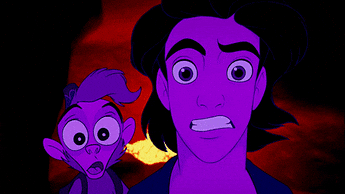 I am less prepared than I have been in years, wow. This might be a pantser year instead of a planner year for me. (I used to be a pantser, but started planning about 3 NaNos ago.) I'm just…going to go…scream into a pillow…